County competitions update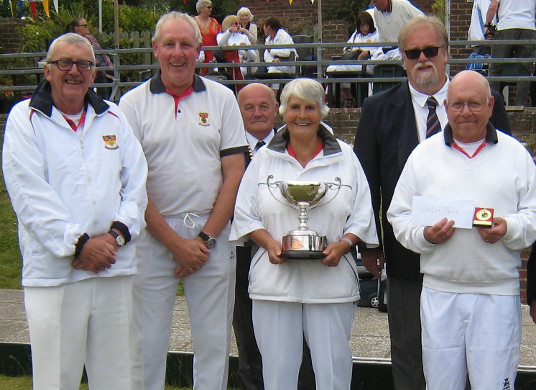 Above (left to right): Roger Green, Paul Sandford, Carol Watson and Chris Reynolds won the annual Woodingdean Open Mixed Fours on Sunday 9th June, they won 4 out of their 5 games under the team name 'Dodge'.
Several Lindfield men have been successful in county competitions:
- In the Unbadged singles, Alan Gardiner is in the area final.

- In the Two Wood, Tom Palmer won one area final and Steve Minter was beaten in the other area final.

- Four men have won through to the third round in the singles: Steve Minter, Keith Holman, Martin Pelosi and Paul Sandford.

- Three pairs are in the fourth round: Adam Harding/ Tom Palmer; Ian Watson/ Keith Holman; Peter Gacsall/ Chris Reynolds (substituting for Graeme Geddie).

- Two Triples are in the third round: Adam Harding's and Phil Taylor's.

- Three fours are in the second round: Adam Harding's, Graeme Geddie's and Ian Watson's.

- Sue Willmott and Carol Watson won another round in the ladies' pairs, 15-11 against Ringmer.

All three league teams started with wins: Felbridge was beaten 8-2 in the Mid Sussex League; in the John Spriggs League, Southwater was beaten 9-1 and 57-28 in shots: Peter Page's rink won 15-8; Colin Stevens's 24-7; Shirley Foxwell drew 13-13.

The Border League team also won 9-1 and by 48-28: Alan Gardiner won 22-5; David Glossop by 14-11; and Steve Minter drew 12-12.