Nellie Mercer League
Pre-campaign briefing from team manager Margaret Atkins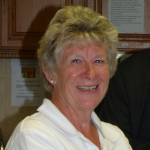 The Nellie Mercer League is a competitive bowls league for ladies played on Thursday evenings starting at 6.15pm and 6pm in August.

There are two divisions and at the end of the season the two teams at the bottom of Division 1 go down to Division 2 and the two teams at the top of Division 2 go up to Division 1. Points are awarded after each match with 2 points for a winning triple, 1 point for drawn triple and a further 2 points for an overall winning total.

Nellie Mercer, a bowler with Popes Mead Bowls Club in Crawley, started the League some years ago as she felt a competition was needed for working ladies who were unable to play during the day but could play in the evenings. She kept the participating clubs local to Crawley to keep travelling time to a minimum. There is light supper provided following the match which creates a great camaraderie to end the evening.