Lindfield become National Champions!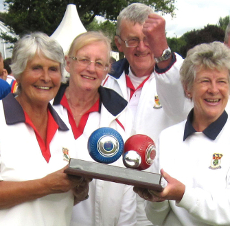 Outstanding news from Leamington as Lindfield's over-60 mixed double rink team held their nerve to beat Durham's Hundens Park 36-30, to become 2016 National Champions in the Tony Allcock trophy.
The team formation was again changed, with Ian having Shirley Foxwell lead with Carol Watson at 2 and Terry Hughes at 3. In Tom Palmer's team Sue Willmott returned to play at 2 with Margaret Atkins leading and Roger Green at 3 as before.
In the final, Ian's rink had a nip-and-tuck game, going 10-9 ahead after 10 ends, but they only scored one shot in the last 6 ends, however Terry and Ian always found a way to minimise the damage, and they ended up losing 16-17. Tom's rink again scored more freely, after reaching 12-10 up after 11 ends they took control of the second half of the game, won 6 ends in a row to stifle the opposition's chance of scoring, and eventually won 20-13, handing Lindfield a win by 6 shots overall.
The trophy was handed to Roger as team "organiser" by the Bowls England President, Michael Jennings together with a cheque for £1,000 for the club.
For the record, Lindfield won 8 matches, beating four teams from Sussex and then the champions from Kent, Wiltshire, Northamptonshire and Durham. Statistics tell it all:- Shots for 348 – Shots against 221.
It's been a fantastic year for Lindfield's bowlers, who qualified for Leamington in five events (men's pairs, men's over-55 pairs, men's triples, mixed fours, Tony Allcock trophy), but made hasty first-round exits in three of those events. The Mixed fours team (Jennie, Carol, Ian, Keith) provided some solace by reaching the quarter-finals, but to come home with silverware is more than any of us would have dreamed of. Well done Lindfield!