Chris Reynolds - Honorary Life Member
Joined LBC: 1978
Day job: Market researcher
Bowls: Taylor Vector size 2 heavy
Indoor clubs: Preston IBC, Grattons IBC
Middleton Cup games: 50
Men's Captain: 2008, 2013
Men's Champion: 1982, 1983
2 Wood winner: 1993, 1994, 1997, 1999
Handicap winner: 1986, 1990, 1992, 1998, 1999.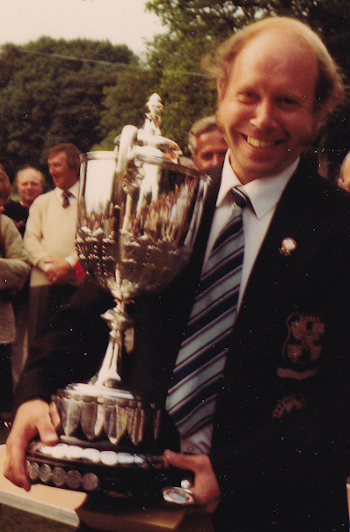 Most LBC members know Chris for his excellent organisational skills - he's been the mastermind of many happy quiz nights over the years - and is now in his third and final year as organiser of the popular Jubilee Triples tournament. But many won't know this history of his bowls career.
Chris took up bowls in 1971, aged 26, after a serious knee injury curtailed his football career. His first club was Preston Manor (located in Preston Park, Brighton), where he had early success, winning the Sussex County Triples with Charlie Prince and Fred Prince (senior), the uncle and grandfather of well-known Sussex bowler Leigh Prince. Soon after that Chris was selected for the Sussex Middleton Cup squad, for whom he went on to make 50 appearances over the next 25 years.
While at Preston Manor Chris encountered future Lindfield player Alan Clarke in the county competitions, and soon afterwards Alan left Adastra to join Chris at the more competitive Preston Manor. Chris and Alan both served as club captains of Preston Manor, and Chris won several club competitions there. Chris also won the Hove Open triples three times with Sussex greats Dave Ovett and Wally Hayward.
Preston Manor president Harry Snow persuaded Chris to join Preston indoor bowls club. When playing in the national finals at Melton Mowbray one year Chris signed up to be a sales rep for B&H Midland Services (selling bowls goods), and became even more popular amongst Sussex bowlers as he often sold the goods on without charging any commission!
After moving house from Brighton to East Grinstead, Chris decided that with so many competitive bowlers already there, Lindfield was the place to be, and he joined in 1978 (aged 33) which makes him the longest-serving member of the club. With Chris on board it meant that Lindfield had seven members of the Sussex Middleton Cup squad, an incredible number for a village club.
Chris's major breakthrough came in August 1981 when he won ten consecutive rounds to win the Brighton Open Singles tournament, which at the time was a highly prestigious event that attracted competitors from London and the home counties. In the 1981 tournament there were nearly 350 singles entries.
In 1983 Chris enjoyed a good run in the indoor National Singles competition, and on Feb 25th that year the Evening Argus wrote:
"The spotlight switches to the Preston Club on Saturday, with the visit of Peter Cockett (Egerton Park) to play Chris Reynolds in the area final of the National Singles. In the previous round, on short jacks, Reynolds played superbly to win 21-4 at Falaise over Clive Boyle, area winner last season, and is confident of success.
This is the first time he has entered the event, and it may be the last for a while. He is now the father of an 8-month-old daughter, Louissa, is a marketing research auditor, and plans to spend more itme in the future with his wife, Greta, and baby."


A week later in the same publication, this report appeared:
"Chris Reynolds, the 38-year-old from East Grinstead, beat 56-year-old Bexhill postman Peter Cockett 21-8 in the area final of the National Singles. When the pressure was on Cockett (from Egerton Park) found his firm shots misfired and Preston member Reynolds drew himself into the last 32 at Hartlepool this month.
From 6-6 Reynolds scored 1,3,2,2,3 on successive ends to lead 17-6. Cockett then picked up a 2 but Reynolds ran out with 1,2,1."
1986 National Fours final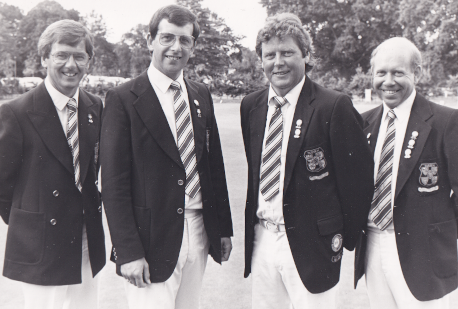 In 1986 Chris's outdoor County Fours team reached the final of the National Fours (then played at Worthing). He played 2 to charismatic skip Doug Whetstone, with Alan Clarke at lead, and Malcolm Fever at 3.
At the time, no Sussex team had won an outdoor national title for nearly 20 years, but the Lindfield quartet showed excellent form in first winning the Sussex County Fours, then going on to convincingly win five rounds at Worthing Beach House Park to reach the national final.

Pictured from left to right: Alan Clarke, Malcolm Fever, Doug Whetstone, Chris Reynolds.
On 14th August 1986 the Brighton Evening Argus wrote:
"Lindfield narrowly failed to bring the first national bowls championship to Sussex for 20 years when they lost the fours final at Worthing yesterday. After five brilliant performances from Alan Clarke, Chris Reynolds, Malcolm Fever and Doug Whetstone in the Gateway EBA Championships, they lost 27-22 to John Hobden, Martin Ballatyne, Peter Dickinson and Melvin Vickers of Stoney Stratford, Bucks.
The superb drawing skills which had got them so far just faded. Their first trouble was on the fifth end when Vickers moved the jack three inches to turn 2 into 5. That put Lindfield 11-2 down.
They got 4 back on the 6th end, but conceded 4 on the seventh. With ten played they were 17-9 down, but fought back well to only trail 18-16 at 15 ends. The 18th end proved the death blow. Probably the loosest end they had bowled over the 3 days, it cost them a six , (27-17) and from that there was no way back.
'We had a very tough semi-final and blew our chances early on, but at least we made a game of it until the 18th end' said Whetstone afterwards.
His players collected £70 prize money each, but hopes had soared after the morning semi-finals.
Lindfield had been 7-2 up after 7 ends, but dropped 4 shots on the next. With 1, 3, 3 startingon the ninth they were 14-6 in front.
A single against them on the 12th end was followed by conceding 5 on the 13th and suddenly the game (14-12 ahead) was a real battle.
At 16 ends Lindfield were 16-13 ahead, but pegged level over the next two; they scored 2 on the 19th end to lead 18-16.
But they then conceded two singles for the match to go into an extra end on which Fever drew the shot a foot behind the jack and it remained the match-winner 19-18."

The Mid-Sussex Times reported:
"They're the famous four from Lindfield - the finest quartet of bowlers in the county and nearly the country, because they reached the final of the national fours, narrowly losing to Stony Stratford (Bucks) 22-27.
The four came together at the start of the bowls season, never having played as a team before. The star line-up is:
- Alan Clarke from Lindfield, who works in banking.
- Chris Reynolds from East Grinstead, a market researcher.
- Malcolm Fever from Haywards Heath, a policeman.
- Doug Whetstone (skip) from Lindfield, a painter and decorator.
And just how good are the 'Fab Four'? Well they reached the national final ahead of 2,683 other teams!"
2000 - National Pairs success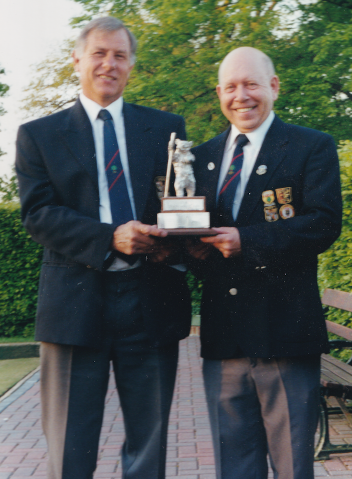 Chris had to wait another 14 years before finally achieving sucess at national level. In 2000 he teamed up with Lindfield champion (and former QPR footballer) Ian Watson to enter the National 55 and Over Pairs competition.
After safely negotiating many local rounds Ian and Chris reached the finals, played that year at Nottingham. Ironically in the quarter-finals they faced a pair from Stony Stratford BC which included the father of the skip who 14 years earlier had beaten Chris's team in the national Fours final.
This time Chris and Ian prevailed comfortably, before a much closer 20-18 win in the semi-finals against a pair from Durham. The final saw the Lindfield duo bowl superbly to beat Devon's Doug Bale and Derek James 24-11, and to be crowned national champions for the year 2000.
It was the second time in the space of 5 years that Lindfield had won the National 55 and Over Men's Pairs, after Keith Broughton and Frank Palmer triumphed in the same competition in 1995.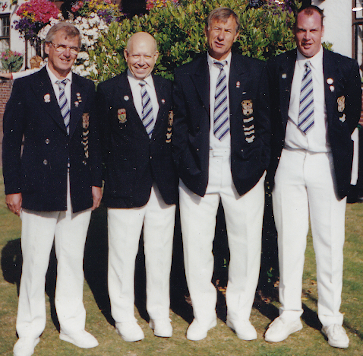 From left to right: Alan Clarke, Chris Reynolds, Ian Watson, Dave Richardson - all four Lindfield bowlers representing Sussex in a county game at Worthing Beach House Park in 2003.